Xssist Blog


[SSD] Comparison of Intel X25-E G1 vs Intel X25-M G2

We are looking for SSDs to replace SCSI disks. IOPS is the main deciding factor for which SSD to use. The best SSD as shown in consumer review sites are those from Intel. Unfortunately, there are no IOPS comparisons for the Intel X25-E vs the X25-M that are done over several hours. Most consumer reviews uses software that runs for short periods of seconds or minutes. These tests are inadequate as they are too short, and do not show the varying performance of SSDs when under sustained load over long periods. Several reviews end up stating the X25-M G2 (MLC) as on par or better than the X25-E G1 (SLC). We wanted to confirm the X25-M G2 performance, using iometer; in particular we wanted to see high, sustained, 4K random IOPS for the X25-M G2, that is comparable to the X25-E G1. Unfortunately, our tests show the X25-E G1 having around 3 times higher IOPS compared to the X25-M G2 when the tests run for several hours. Following is a graph comparing the X25-E G1 64GB vs the X25-M G2 160GB. The X25-M G2 starts off with IOPS over 10K, slightly higher than the X25-E G1. The IOPS of the X25-M G2 drop rapidly thereafter. Although the X25-M G2 still has high IOPS compared to single spinning disks, the performance is clearly inferior to the X25-E G1.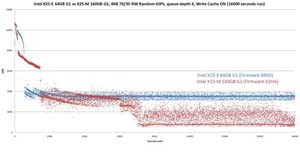 Intel X25-E G1 vs Intel X25-M G2, iometer 4K Random IOPS

May 2010


[Sysadmin]

Access to servers via mobile device and ssh
[Sysadmin]

RAID 0 scaling on SCSI U320, Bonnie++ 1.93c benchmark results
[Sysadmin]

TODO (Apr 2007)
[Sysadmin]

Recover from mistakes in /etc/fstab or e2label usage
[Sysadmin]

Server overloaded?
[Sysadmin]

Server load high: CPU bound
[Sysadmin]

Smokeping: deluxe latency measurement tool
[Sysadmin]

Smokeping
[Sysadmin]

Jul 08 to Oct 08 updates
[Sysadmin]

Weak link - downtimes caused by the organic being
[Sysadmin]

BIOS upgrades - uniflash - hotflash
[Sysadmin]

Sizing for Virtual Private Server (VPS) & SSDs
[Sysadmin]

iphone, ipod - bluetooth keyboard - Nokia e51
[Sysadmin]

e2label, fdisk, /etc/fstab, mount, linux rescue, rescue disk, CentOS
[Sysadmin]

opensuse, fix waiting for mandatory device, eth0, eth1, eth2, eth3
[Sysadmin]

mount: could not find filesystem '/dev/root'
[Sysadmin]

Parallels Virtuozzo Physical server to Container migration (vzp2v)
[Web hosting]

DDOS (Distributed Denial of Service)
[Web hosting]

Uptime for dedicated server, VPS and shared server
[Web hosting]

Shared, Guaranteed and Dedicated Bandwidth
[Web hosting]

Unmetered bandwidth
[Web hosting]

Free domains?
[Web hosting]

Joomla Scalability
[SPAM handling]

Tracking applications which are exploited for mass spam mailing
[Buzzwords]

Clusters, Clustering
[Security]

Destruction of faulty hard disks
[Storage]

Benchmark using iometer on linux
[SSD

] Benchmark Intel X25-E and Intel X25-M flash SSDs
[SSD]

Intel X25-E 64GB G1, 4KB Random IOPS, iometer benchmark
[SSD]

Intel X25-M 160GB G2, 4KB Random IOPS, iometer benchmark
[SSD]

Comparison of Intel X25-E G1 vs Intel X25-M G2
[cPanel]

ClamAV version has reached End of Life! Please upgrade to version 0.95
[cPanel]

How to install Java, ImageMagick and ffmpeg
[Perl]

Opening text files for reading, and simple regexp (regular expressions)